Glenn Tipton - Official Website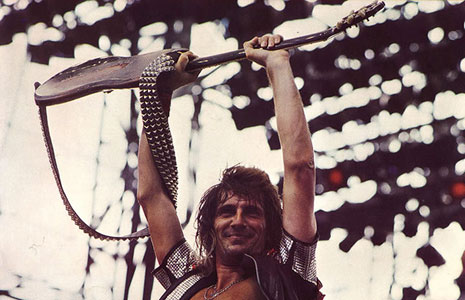 Glenn Tipton was born near Birmingham in England. The guitarist / songwriter / producer has earned worldwide acclaim as a member of Judas Priest for nearly forty years and in that time he has also released two solo albums. His name is synonymous with  Rock and  Heavy Metal and over the years his music has pioneered the way forward and helped  inspire, many young musicians and guitarists through their early years and into successful careers.
He joined Judas Priest in 1974 before the bands first album Rocka Rolla, and the chemistry that evolved within the band, ignited them to incredible success. Priest conquered the planet with its powerful, unique style of Heavy Metal and the groundbreaking quintet has flown high as the very epitome of metal ever since.
He has recorded two solo albums. On March 7, 2006, Rhino Records released a new version of his 1997 Atlantic Records album 'Baptizm Of Fire' (including two bonus tracks) as well as the Tipton, Enwistle and Powell album 'Edge Of The World' which consists of previously unreleased recordings with the late Cozy Powell and John Entwistle, which was laid down around the same time as 'Baptizm Of Fire'
The following pages will give information of interest and hopefully answer many questions regarding Glenn's activities, throughout the years, within and outside of Judas Priest.
Forward by Glenn
Because this is a personal website I have tried to focus mainly on my solo projects etc but as Priest has and always will be a massive part of my life there are obviously points when the two intertwine.
Where this occurs I have tried to limit the information regarding Priest to just my individual input such as lead breaks or guitars and equip used etc.
For more General and thorough info regarding Priest please go to the official Judas Priest web site.
The Glenn Tipton Parkinson's Foundation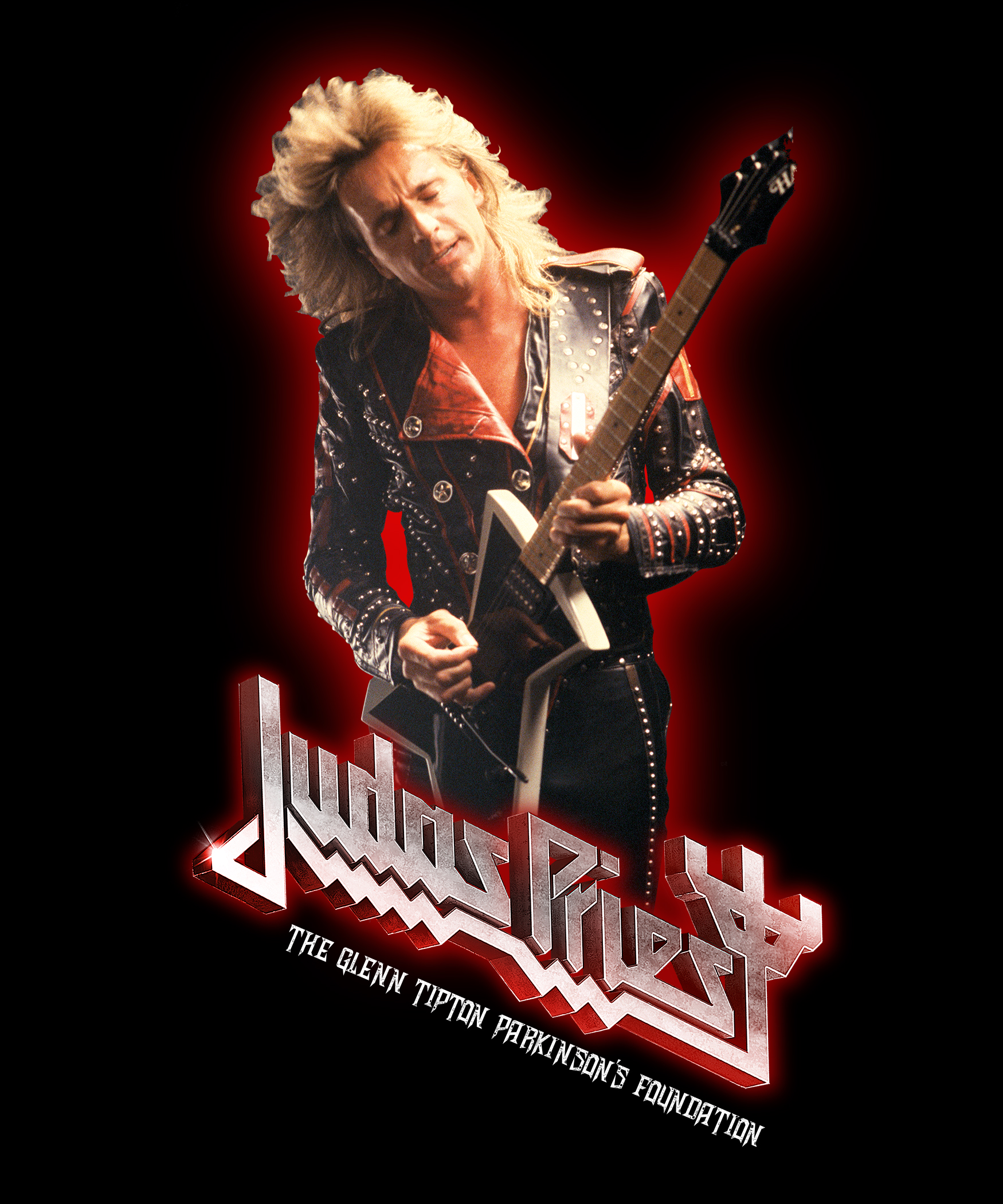 Glenn has expressed his gratitude to supporters who helped raise more than US $150,000 for his Parkinson's charity – the Glenn Tipton Parkinson's Foundation.
The foundation was launched in June 2018, four months after Glenn announced his Parkinson's diagnosis in February 2018. All proceeds will support the development of 'MR-guided focused ultrasound thalamotomy' – a pioneering treatment for essential tremor in people with Parkinson's.
After making a comeback performance at The Sweden Rock Festival in June 2018, Glenn wrote on the band's website: "When I walk on stage the audience reaction has been amazing, heartwarming and quite emotional."
Anyone who wants to donate to The Glenn Tipton Parkinson's Foundation by purchasing the No Surrender T Shirt can do it via the following link...
No Surrender T Shirt, available via the Judas Priest Website
Glenn reallty appreciates anything and every thing you donate!....
LATEST NEWS!
14/03/2018

PERSONAL MESSAGE FROM GLENN:

By now many of you will know I won't be doing the forthcoming Judas Priest tour because of health issues---I'm so sorry but four years ago I was diagnosed with Parkinson's and was told by my specialist that I had already had it for over ten years - I knew something was wrong with my co-ordination and fluency regarding my playing but I worked around it and battled on - I have good days and bad days but the disease is degenerative and I would never want to compromise the greatest metal band in the world - it was therefore during the last rehearsals I decided to step down and have Andy Sneap fill in---he's a great guy and I'm sure he'll do a great job - I'm sure the band will be as strong than ever

I have been overwhelmed by the massive support and love I've had from other artists and from fans all over the world and from many friends and metal maniacs out there - it's not the end for me - I'll still be able to write and record and on good days even join the band on stage for a few songs - with new medication and advances being made who knows what the future holds - but one thing's for sure - it will certainly involve Priest!

Finally the biggest thanks goes to Rob, Richie, Ian and Scott who have stood by me and supported me through everything - GLENN
13/07/2017
Welcome and thank you for visiting The official Glenn Tipton Website.. glenntipton.com

Here you will find a complete resource for the World Famous Judas Priest guitarist. From Early Life, Early Bands and The Flying Hat Band to Judas Priest.

Glenn's solo albums Baptism of Fire and Edge of the World are featured together with background production stories, photographs, lyrics and audio previews.

We have recently added new website pages for Glenn's EMG Vengeance set pickups and ESP signature guitar, as well as Glenn's famous Hamer Guitars and an additional 18 video clips showcasing Glenn's lead guitar playing through the years, both live on stage and in the studio.

Other items of interest include Glenn's Musical Influences, Interviews and Hobbies.

Please enjoy your visit…

11/11/2016

Exclusive Solo Album Bundle

Glenn Tipton's albums 'Baptizm of Fire' and 'Edge of the World' are now available as an exclusive bundle featuring a 24 Page Booklet and Autographed insert !..

This Limited Edition 2 CD Set Includes the 1997 Solo Album, Baptizm Of Fire, with Guest Musicians John Entwistle, Cozy Powell, Robert Trujillo, Billy Sheehan and more..Plus Tipton, Entwistle and Powell - Edge Of The World - Originally Released 2006.. Glenn will be donating all of the record royalties from this release of BAPTIZM OF FIRE and EDGE OF THE WORLD to the Teenage Cancer Trust Charity..
24/08/2016

Glenn Tipton signature pickups, the EMG GT Vengeance Set.

EMG is proud to announce the new Glenn Tipton signature pickups, the EMG GT Vengeance Set. Known for their massive guitar tones, Judas Priest inspired generations of metal fans and Glenn was the cornerstone of that sound. EMG pickups were the first Glenn used to gave him the unique ferocity, depth, and clarity that cut through audiences worldwide.

Having played the EMG 81 for well over a decade, Glenn approached EMG for a few modifications to expand his iconic metal sound. Always reaching for more, Glenn embarked on a five year journey that led him to his new signature GTV. This humbucker pickup set is unlike any other EMG in tone and feel. Using ceramic and steel magnets, the GTV maintains high output with a rich smoothness in the mid-range.

With its tight attack, amazing clarity, and even response across the audio spectrum, the EMG GTV provides the knockout punch Glenn Tipton demands. This signature set is available in our classic black caps or EMG's new red caps. Glenn Tipton of Judas Priest Interview on EMGtv .
24/08/2016

ESP LTD GT-600 Glenn Tipton Signature Guitar

The GT-600 Black is a signature guitar that was designed in conjunction with ESP. This electric ESP LTD solid-body is a real Ripper that allows you to conjure up all of my British Steel sounds. Based on the popular Viper model, it features a black lacquered body, a cool brushed chrome pick guard with two red EMG GTV hum buckers. ESP LTD GT-600 .


24/08/2016

Glenn Tipton / EMG 81 / 85

Glenn Tipton, one of the guitarists for British heavy metal band Judas Priest, is known for his complex, sometimes classically influenced solos and his double lead guitar trades with fellow Judas Priest guitarist K.K. Downing.

Glenn's solos tend to incorporate a melodic, legato sound, making use of techniques like sweep-picking, dive bombs, classical scales, and arpeggios, and often focus on both accuracy, speed and aggression. Though he didn't start playing guitar until he was 21, he had been playing piano from a very young age, and was obviously musically inclined.

Glenn uses the classic EMG 81/85 combo in his Hamer Phantom GT model guitar. Glenn Tipton / EMG .
25/03/2010

Live DVD of British Steel For 30th Anniversary

Live DVD release of British Steel performance to Mark 30th anniversary, 2010 marks the 30th anniversary of the British Steel album and the release of the live DVD recorded on the 2009 world tour when Priest played the complete album on stage from start to finish. This was the first time the band has ever played every track from an album in concert.

"It marks a very significant point in time for the band" says Glenn "and so we thought a great way to celebrate it would be to perform it live. It's our way of saying thank you to our loyal fans around the world who have supported us through all these years"
22/03/2010

Judas priest pick up Grammy

After being nominated 5 times the band finally got a Grammy for the best live performance of a song. The track was "Dissident aggressor" and was performed on the 2009 section of their 18-month World tour.

"We are all very proud of the award" says Glenn "after so many years and nominations it's nice to finally win one, but we were disappointed last year having 3 nominations and no Grammy for the concept album Nostradamus. In many ways it would have been more appropriate as it contained classical and operatic elements and was some of our most ambitious if not finest work. Dissident Aggressor is a great track, however and after 5 nominations it's fantastic to have won our category"

16/02/2010

Video Lead Breaks

Watch for new video clips Glenn will be adding from time to time featuring some of his guitars and lead breaks including tracks from both Priest and his solo albums. These will be on Lead breaks (video) page.