The Flying Hat Band - CD Cover & Album Tracks

| | | |
| --- | --- | --- |
| | Although these tracks were never officially released and only done as demos, very early on, prior to 1972, they have a certain raw quality that's representative of the times such as the free form cross lead playing in the middle of "Coming of the Lord" and the Spanish / Jazz acoustic version of lost in Time. | |
About The Flying Hat Band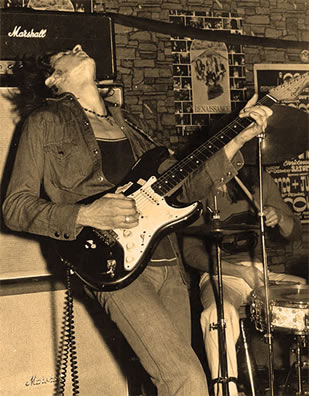 The Flying Hat Band c.1970 -
Popup Gallery
Merlin developed into the Flying Hat Band and it was round about this time that there was a very defining moment in my career. We played at the top rank in Newcastle and my old salmon pink Stratocaster was stolen off the stage. I knew it was one of the local stage hands and so I approached the manager and complained. The police came but it was too late and the guitar was gone.
On the way home (and it's a long way from Newcastle to Birmingham) I was so despondent that I decided to give up. I had no guitar, no money to buy a new guitar and wasn't earning enough to pay the bills so it looked like the end. A few days later someone, out of the blue, offered me another Strat for £30. The going rate then was around £110.
I begged and borrowed, and even landscaped someone's garden to raise the money. I bought the guitar and a week later received a cheque for the stolen guitar so I was able to go out and buy a Gibson SG. It all looked suddenly better I was now a two guitar guitarist.
The Flying Hat band line up kept changing, and Trevor Foster and Andy Wheeler joined on drums and bass guitar. We were writing and performing much more of our own material now but we were still playing blues tracks and some rock and roll as encores. Things were going well for a time and then Pete came down to my house one day and told me he was leaving and was going to enrol in the RAF. Although I was pretty devastated I understood his reasons for leaving. He at that time was a little confused with his life and was searching for something and just felt that joining the RAF would give him some order in his life. It was sad though and I missed Pete and everything he brought to the band. Not finding a singer immediately I took over the vocals and we became a three piece.
Frank Walker played bass for a while. Frank was a great guy and a very solid base player, but the final line up was myself Steve Palmer (brother of Carl Palmer) on drums and Peter (Mars) Cowling on bass guitar. Both Mars and Steve were excellent musicians and musically the band was probably as strong as it had ever been at this point. We played everywhere from the Marquee in London to the Cavern in Liverpool. Through a manager named David Hemmings, we landed a support to Deep Purple around Europe. It was a real baptism of fire as we were playing to large audiences and hadn't really got the material but again we played our hearts out and pulled it off and it was all a real learning curve. I lost touch with Steve, but Peter (Mars) Cowling remains a good friend.
We were together for quite a long time and had a growing reputation and following. We never, however, found the right management and eventually had no choice but to wind it up. We just weren't earning enough to survive and had nowhere to go. It was a shame because the band was great live, with a lot of energy and the songs were getting better as we progressed... Fate though was about to play a role in things.
It's said that everything happens for a reason. At the time The Flying Hat Band were working with an agency in Birmingham owned by Jim Simpson, which happened to be the same agency as Judas Priest. Priest were with Gull Records who suggested the band either add a keyboard player or another guitarist. As the Flying Hat Band was breaking up they approached me to see if I was interested in joining. This was in May 1974 before the first album "Rocka Rolla". I agreed, and it didn't take long to realize that we had a very unique chemistry as a band and particularly as writers. Something very special had happened. Something so special that nearly forty years on we are still writing and recording, and touring the world together.