Hobbies
I have many hobbies and interests and very often take a break from music to pursue them.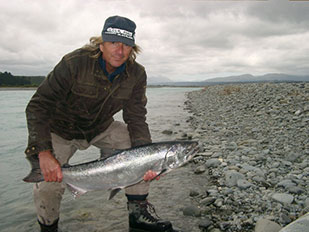 Salmon Fishing in New Zealand
My interests include a love of the outdoors and all animals (including dogs), plus a variety of other pastimes and sports. I'll have a go at anything but mainly these days I play tennis and golf. I played a lot of football (soccer) from a young age right through school and then continued when I worked, carrying on afterwards playing for some of the villages I lived in or five a side leagues. I finally had to stop when I injured a knee ligament, so never got to play for England!! I still follow football though especially all the major competitions. I also enjoy motor racing particularly Formula One, but most sports interest me.
I build and fly (or crash !!) model planes and helicopters. I've always liked making things, so find it fascinating to actually build something and fly it. I spend many hours in my workshop at home tinkering about with model aircraft and cars and love the challenge of repairing or assembling things. I'm not particularly bothered about flash cars but love driving my old four wheel drive truck around the farm. I have a couple of trial Bikes as well that I go off-roading on through the woods when I need to clear the cobwebs away.
In addition and contrast, I love art and I still like to draw and paint. I don't get much time these days but find it's a great way to express yourself as an alternative to music. It's a bit like writing a song. It's exciting and you never know how it's going to turn out.
My main passion however is fishing. I've always fished since a boy and love to be away from the phones and down by the river. I started course fishing when I was young but these days I mainly fly fish for salmon or trout. I have fished many places all over the world including the US, Canada, The Andes in Chile and other parts of South America. New Zealand is an amazing country so beautiful and also great to fish particularly for trout. Closer to home though, I love Ireland and Scotland and couldn't be more content than when I am by the river at dawn with the mist drifting on the water. The take of a fish still excites me more than ever, and being passionate about the countryside and wildlife, for me there's no better way to relax.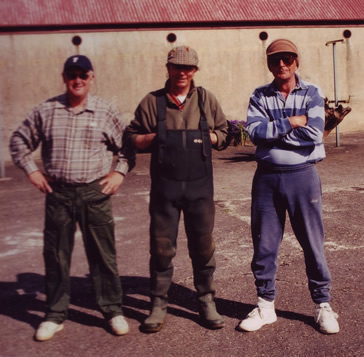 My Cousin Tony, Bob (Our Guide), and
my brother Gary Fishing in Ireland
Although mainly a river or lake fisherman I love big game fishing and have hooked some pretty huge fish around the world off the coasts of countries such as Africa, Hawaii, and Australia. I always release the fish. The colours of game fish such as marlin or sail fish are so stunning that it would be so cruel to kill them and such a waste. I remember evenings being anchored at the Great Barrier Reef, barbecuing and sipping wine, ready for an early start next morning hunting down big billfish. The crew would always have great tales to tell such as the giant fish they hooked on one particular trip. You sit there excitedly listening for twenty minutes as they recount the story only to find out in the end that it was two marlin one blind in his left eye and one blind in his right eye but they had swum around together since birth (not true of course) but great entertainment as the wine kicks in!
I have made so many great friends around the world through fishing and have the most amazing memories of magical days in magical places. I have so many adventures and seen so much birdlife and wildlife on my travels, which for me is the reason why I enjoy fishing so much.
I love the sea and boating which I do in Cornwall, England. From there it's easy to reach France, the Channel Islands, the Isles of Scilly and even Southern Ireland. It's a great contrast in life. To be out on the sea is a joy for me and seems to free the mind of all problems and worries. I enjoy learning the skills of navigation, the winds, weather and tides. Even if I don't take the boat out because of bad weather, it's just a great environment to be in with the sound of the wires tapping the masts in the harbour or hearing the sea and gulls calling, I always feel rejuvenated when I return home. Again such contrast satisfies me and seems to inspire me to get back to work and make music.