Musical Influences
It goes without saying that I love playing and performing heavy metal, and have for most of my career. Going right back though, I've listened to a lot of early blues players, and I think the first band I saw live that really made an impression on me, was The Spencer Davies group. I remember going to see them play at an all-nighter at Birmingham Town Hall. Steve Winwood was a great all round vocalist, guitarist and keyboard player and I remember trying to learn "Georgia" on the piano after I had seen them play. They had great songs like "Keep on Running" and although you could try and categorize them as blues or R&B, they really had their own sound going for them, mainly due I believe to Steve Winwood.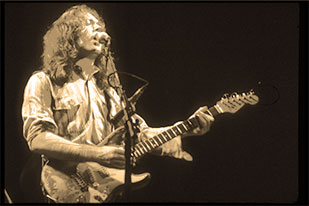 Rory Gallagher
Other early influences were Hendrix, Deep Purple and Zeppelin. I still can't believe where Hendrix came from. OK Seattle maybe but he just suddenly appeared, as if from nowhere, this black guy playing guitar in a way no one had imagined it could be played. He was more than a genius in my eyes, someone very, very special. I loved early Purple and the combined sound of Organ and guitar gave them a very powerful sound, again unique at the time. As for Zeppelin, what can you say, "Whole lotta Love", "Communication Breakdown", "Black Dog", and the epic "Kashmir" again a unique band with great songs. All these bands formed an impression on me going back to those early days.
I liked the early Fleetwood Mac with Peter Green and Jeremy Spencer. I thought Peter Green was a great white blues player and song-writer. He not only penned such greats as "Green Manalishi" and "Oh Well" but more delicate compositions such as "Need Your Love So Bad" or "Albatross" I saw them several times and it was great to watch them perform songs like "Stop Messin' Around" or songs featuring slide guitar such as "Dust My Broom".
As I've said before, as a guitar player my main inspiration was Rory Gallagher. I saw him play in Taste many times and he really inspired me, not just musically but also in the amount of energy and feel he put out.
I've always loved the Stones. They have so many classic songs such as "Jumping Jack Flash", "Honky Tonk Women",  "Sympathy For The Devil", "Brown Sugar", or their earlier stuff like "This Could Be The Last Time", "Paint It Black", "It's All Over Now" the list goes on and on. The Stones have great attitude and that rebel quality that's so appealing. I recently saw them at the Isle of White festival and they were as good as ever after all these years.
As do many people, I think the Beatles were a great band. We were all lucky that fate put these guys together in our time. It totally amazes me that they came up with such an abundance of classic songs in such a relatively short amount of time. The Beatles changed everything. To start with they were the first band to write their own material. They were so prolific and the endless melodies they invented will live forever.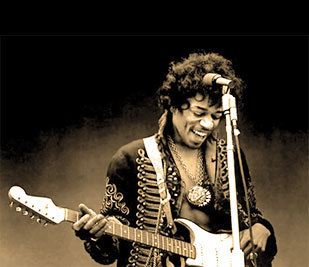 Jimmy Hendrix
These were some of my early influences. Through the years obviously there have been many bands who I've liked and respected and who have inspired me both as a guitar player, performer and as a song writer. I always listen to a lot of younger bands (some of which I can't remember the names of and some of which I can't even pronounce the names of) I try and listen to everything though, and not just listen but get to understand it and learn to like it. I feel this is important. I however, always move on, and very rarely look back. I learnt very early on never to dwell on any other band or musician for too long. Take inspiration but do it in your own way and forge ahead. Recognize the talent that's within you and value your own technique and character. I used to practice for hours trying to copy other people's licks and got frustrated because although I got close I could never quite play it the same. It was a revelation then, the day I realised that there was no point in playing it the same as someone else, it's already been done! Yes be inspired to a point, but do it in your own way. For one thing it's easier and secondly your nurturing your own style which then becomes more recognisable (this is important to not just yourself as a musician but as a band also). One thing I heard an artist say which I never forgot was that "It's just as important to discard as to create". As a writer I sometimes have lots of unused ideas and get bogged down trying to make them work. Sometimes it's good to discard these ideas and start afresh using brand new inspirations and ideas.
I listen a lot to Classical music and film themes. I love Film music, I find it big and dramatic and it really touches my emotions. I love the fact that you can put together a piece of video footage and music and the combination transforms the whole thing into something very special or emotional.
So you can see my influences, through the years and currently, are a mixed bag, but I believe that's necessary to really give you the depth and inspiration you need to compose songs or play guitar. My main love is, of course, Metal. But i genuinely believe it really helps when writing if you take your inspiration from a wide choice of music so that what you create is very different and unique.