Judas Priest
For general and current Priest info go to the official Judas Priest web page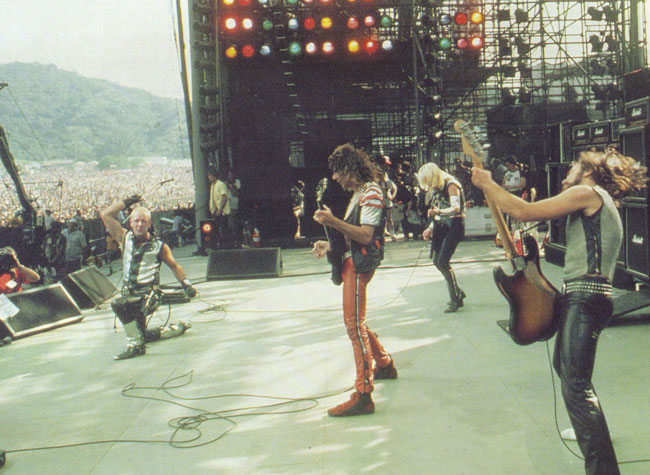 Judas Priest -
Popup Gallery
Glenn Tipton is renowned as one-half of the legendary metal band Judas Priest's groundbreaking twin-guitar attack. Born in Birmingham, England, Glenn joined Judas Priest before the first album, Rocka Rolla.
Subsequently Priest went on to become one of the most popular and influential heavy metal bands of all time; late-'70s albums like Stained Class and Hell Bent for Leather virtually defined the New Wave of British Heavy Metal movement, while early-'80s records like British Steel and Screaming for Vengeance brought them international commercial success and stardom as well.
In a career spanning 40 years the band have paved the way for many new acts and flown the flag for Rock and Metal shaping its course and re writing the rule books again and again, influencing many other bands along the way.
Judas Priest Discography
1974
ROCKA ROLLA
(not released on Sony)
1976
SAD WINGS OF DESTINY
(not released on Sony)
1977
SIN AFTER SIN
1978
STAINED CLASS
1979
KILLING MACHINE
(entitled HELL BENT FOR LEATHER in US & Japan)
1979
UNLEASHED IN THE EAST
1980
BRITISH STEEL
1981
POINT OF ENTRY
1982
SCREAMING FOR VENGEANCE
1984
DEFENDERS OF THE FAITH
1986
TURBO
1987
PRIEST....LIVE!
1988
RAM IT DOWN
1990
PAINKILLER
1993
METAL WORKS '73 – '93
1997
JUGULATOR with Ripper Owens
(not released on Sony)
1998
JUDAS PRIEST '98 LIVE – MELTDOWN
(not released on Sony)
APRIL 2001
THE REMASTERS
BRITISH STEEL
POINT OF ENTRY
SCREAMING FOR VENGEANCE
DEFENDERS OF THE FAITH
2001
DEMOLITION with Ripper Owens
(not released on Sony)
OCTOBER 2001
THE REMASTERS
SIN AFTER SIN
STAINED CLASS
KILLING MACHINE / HELL BENT FOR LEATHER
UNLEASHED IN THE EAST
MARCH 2002
THE REMASTERS
TURBO
PRIEST....LIVE!
RAM IT DOWN
PAINKILLER
2002
THE REMASTERS
METAL WORKS
LIVING AFTER MIDNIGHT
2003
LIVE IN LONDON CD
(not released on Sony)
2005
ANGEL OF RETRIBUTION reunion with Rob Halford
2008
NOSTRADAMUS
2009
Touch Of Evil - Live
2010
British Steel - 30th Anniversary Edition & Deluxe Edition
2011
Single Cuts
2011
The Chosen Few
2011
The Complete Albums Collection
2012
Screaming For Vengeance - Special 30th Anniversary Edition
2014
Redeemer Of Souls (standard, deluxe and vinyl)
Please note the twelve albums were re-released under the title of The Remasters together with a Collector's Box in the dates shown above.  Sony also re-released remastered versions of the albums 'Metal Works' and 'Living After Midnight' as listed.