Talking Tech
Each tour is different and requires different units or amps in the racks depending on what songs we are playing. It's forever changing and I'm always experimenting with new equipment and I think it always will change and evolve on stage.
I've also gotta mention my guitar technician, Weasel (Greg Morgan). He's a legend, and he's been with me for over eleven years now. He does a superb job of keeping everything in excellent condition.
On the stage guitars I use Kahler tremolo systems. The guitars are strung with Ernie Ball RPS-10 strings, which are specially reinforced for the Kahler tremolo systems.
My other considerations for stage work are the pickups: They've got to be hot!! Most of my stage guitars are fitted with EMG 81s, which are of course active. All the EMG 81s are wired with the batteries in series so they run the pickups at 18 volts. That makes them last longer and the pickups sound hotter, with more edge and poke. This is partly for the signal-boosting active circuitry and partly, so you're not worrying about the danger of picking up the local radio station midway through a solo. I'm now just starting to use modified EMG's (GTX's) as well which are specially designed for me.
Amplification Etc
I have almost exclusively used Marshall amps, but now I also use ENGL amps for stage work. I used Regular Vintage 50 and 100 Watt Marshall heads without a master volume until 1982, when the JCM 800 head was developed. I then used the JCM 800 with Rocktron pre amps as well. Currently I use one of three or four racks which include ENGL pre and power amps, Marshall 9100 poweramps and cabs with the addition ENGL backless cabs.
Endorsements
Hamer Guitars, Gibson, ENGL, Marshall, Ernie Ball, Dunlop, Celestion, Line 6, EMG pickups, Digitech, Godin, Roland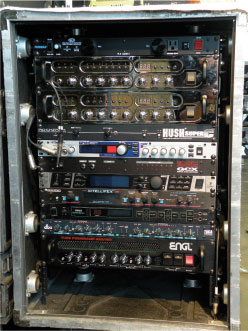 "2009" GT3 Amp Rack Case - Containing
Furman PL-8 Power Supply
Engl E-580 Midi Pre-Amp
Dunlop DCR-2SR Rack Wah
Digitech GSP-1101 Pre-Amp
Voodoo Lab GCX Midi Switcher
Behringer DEQ2496 Equalizer
Rocktron Intellifex Processor
Yamaha SPX 90 II Processor
DBX 166A Comp/Limiter
Engl E850 Power Amplifier
Rocktron Hush Super C
Dunlop MXR Smart Gate
Dunlop DC Brick Power Supply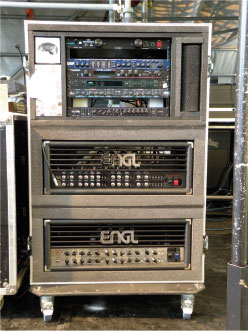 "2008" GT2 Amp Rack Case - Containing
Furman PL-8 Power Supply
Lexicon MX-200 Processor
Rocktron Intellifex Processor
Yamaha SPX 90 II Processor
DBX 166A Comp/Limiter
Dunlop DCR-2SR Rack Wah
Engl 642 Invader Amplifier
Line6 HD100 Amplifier
Voodoo Lab Pedal Power
Mike Hill Loop Switcher
Korg DTR-1 Rack Tuner
Studio Equipment
In the Studio I use a Mac pro tools system for recording with Bryston amplification in conjunction with Vintech Audio mic pre amps. I also use a Digidesign Desk, Quested main monitors with Genelec and NS10 secondary systems.
I have a vast array of amps that I use and always spend a lot of time experimenting with different sounds. Each song you work on may need a different approach and I have ENGL amps and cabs, Marshall amps and cabs, Line 6 heads and combos, Mesa's, Crates and various combos including VOX AC 30's and Cornell's. They all have a use and mic'd up in the right way all can sound good as long as they provide what the track needs.
The mics are very important and ribbon mics in particular sound good for guitar but Sure 57's still take some beating as long as you're prepared to spend a lot of time moving them around combining them eliminating phase problems and adjusting them till you're content. I have a lot of different mics which I use, some powered some not but each one has its own character and the mic pre amps you use in the control room are very important to take what you've got and enhance even further.
Great sounds in a studio come with a lot of trial and error but character is the key to any sound and it's worth trying anything. I have a big case full of old vintage effects and some of those still take some beating. In addition I use a selection of rack pre amps including old Piranhas, Pro Gaps, Chamelions, Boss, and Digitech pre amps and work stations.
The Weasel Story (Greg Morgan)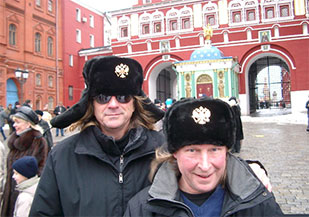 Glenn & Weasel In Red Square
Well, where do I start?
A lot has gone by since I began 38 years ago, but what hasn't gone by is my love for what I do. What do I do? I take care of my Guys. I fix things. There isn't anything I won't do to make sure that whoever I work for is happy and taken care of.
The first band I ever worked for was back in 1971, a band called Reunion, based in Salem Oregon. It was with them I started to learn my craft and my dedicated principles, which I still carry forward with me today. Do everything you can, don't let Anyone stop you, Death before Dishonour, Loyal to the End!
People have often asked me who was your favourite Band?. I have always said, They all have been my favourites, some more than others. Every band has given me pleasure to serve, and I assure you, They have never forgotten the Wease!
I have had the pleasure to serve Bachman-Turner Overdrive, Black Oak Arkansas, Foghat, Cheap Trick, Billy Squire, Foreigner, Dream Theater, Michael Schenker, The Who, RacerX, Meat Loaf, Blondie, Ryan Adams, and of course.. JUDAS PRIEST!
It's hard to believe... I've been with Glenn for 11 years now. Which puts him at #1 on the Wease all time list! I remember it like yesterday, back in 2001, Glenn had just had a long journey, was tired, and the dressing room only had this one horribly bright light. 'Wease, you think we can do anything about this light?'. I said 'I'll be right back Boss'. I returned with some blue lighting gel, jumped up on a table, and dimmed the obnoxious light. Lonesome Dave Peverett of Foghat always used to say... "Where there's a Weasel, There's a way!"
When I'm not on tour, I love to sit at my workbench and putter. Whether it's repairing a friend's guitar or amp, restoring a vintage tube amp, or tinkering with a pedal or wah. I also enjoy doing a bit of woodworking and pottery from time to time.
As I said before... I Love what I do, and I Love the people I do it for!
And Glenn.. I Love the Best!