Glenn Tipton - Hamer Guitars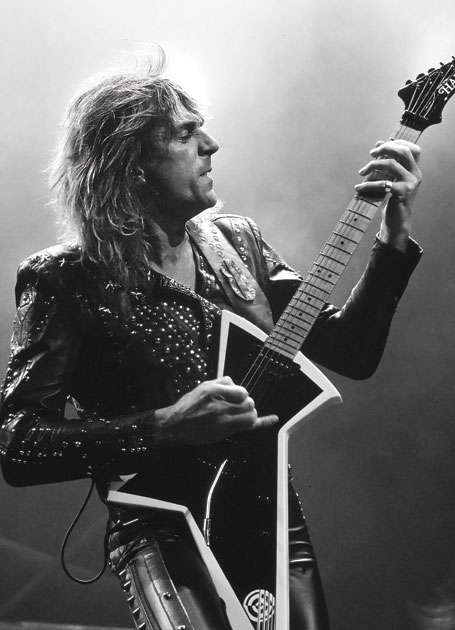 Hamer Guitar -
Image Gallery
Around 1984 Glenn moved to Hamer Guitars and started using a custom Hamer Phantom made by Jol Dantzig (Hamer Guitars technical director). This guitar was fitted with one EMG humbucker, a Kahler tremolo and one volume pot. A signature model of this was developed and sold to public from '84-'86.
Custom Hamer GT Guitar
For the Turbo / Fuel For Life tour in 1986, Hamer introduced a new non-production model called the GT Custom. Its black angular body loosely resembled a Gibson Explorer.
This guitar features a maple fretboard with black dot inlays, two Duncan and EMG humbucking pickups, a Kahler locking tremolo and a white stripe outlining the body shape.
"The GT is my own design and it looks a bit strange, but there's always method in madness. For me anyway, this is a great thing, because onstage, I still play some stretch stuff, so I need to get the guitar at this angle and as you can see, it just fits nicely to me".
"So this was all tailor-made. It's got a very narrow neck which is how I like to play. But the beauty of this guitar is we can do anything onstage, you know, play with our teeth or jumping around, and then I can just find the right position to play. So it's got a certain nice line to it, but it's very functional and it also balances the guitar. If you ever tried to design guitars, they can look very good, but they can be top or bottom heavy, but with this guitar, it's really nicely balanced and it's always in a good position to play."
Hamer Phantom GT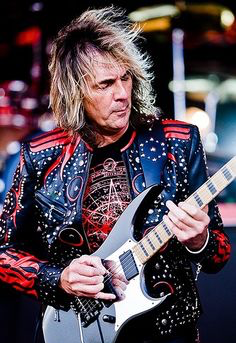 The Hamer Phantom GT featured a contoured body with double offset cutaways and a pick guard. The neck had 22-frets (24.75 inch scale), a rosewood fingerboard, dot inlays and was made of mahogany (changed to maple in 1985).
Other appointments were a Kahler flat-mount 2300 C locking tremolo and a single Hamer Slammer pickup. The Phantom GT had a limited production run from 1984 to 1986. Glenn's personal models feature Duncan or EMG pickups.
"Glenn has traditionally favoured Strat-shaped guitars, and the GT is sort of a combination of different models we've made for him in the past. It features a custom-wound Seymour Duncan humbucker, and we designed the double cutaways so that he has unobstructed access to every fret." - Joel Dantzig (Hamer Guitars technical director).
"For me, a guitar has to assist my role as a performer, and the Hamer GT does that." - Glenn Tipton
Copyright Notice
Copyright Notice..The images displayed on this page are the property of their respectful owners. No copyright infringement is intended. If any person or production entity is offended by the posting of any material, please make contact and the offending item will be immediately removed. Our sole intention is to show case Glenn's guitar playing and not infringe any copyright agreements..