Baptizm Of Fire - CD Cover & Album Tracks
| | | |
| --- | --- | --- |
| | There is some amazing talent on this album and it's great to hear Cozy and Billy Sheehan playing together on the instrumental title track, or John's 8 string bass on "The Healer". CJ, and Shannon Larkin are formidable on tracks like "Enter the Storm" and "Fuel me up" while Brooks Wakerman and Robert Trujillo give so much energy to tracks like "Paint it Black" or "Voodoo Brother". | |
About Baptizm Of Fire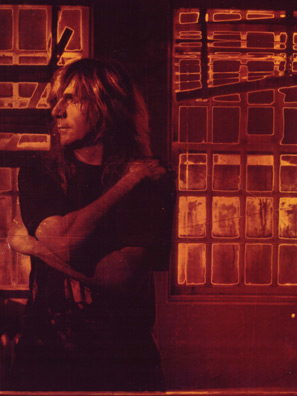 Baptizm Of Fire -
Popup Gallery
Although I was in the middle of working on the "Edge Of The World" album with John Enwistle, and Cozy Powell; Atlantic asked me to work with some different musicians from around the world. So, I wrote and recorded some new material and re-arranged a cover of the Stones "Paint it Black".
I asked Mark Dodson to come on board. Mark had worked with Priest on a couple of albums and since then had produced some great stuff. Mark was also instrumental in approaching some musicians that he knew and had worked with.
We went over to LA and did sessions with Bruce Wackerman and Shannon Larkin on drums plus Robert Trujillo, and Billy Sheean and CJ Devillar on bass. Whitfield Crane joined me on the "Voodoo Brother" chorus, and "Hard Core".
The sessions turned out great. Atlantic loved them and my first solo release "Baptizm of Fire" was born.
It was great working with these guys. There was mutual respect on both sides and they had bundles of enthusiasm and energy. It certainly kept me on my toes.
Baptizm Of Fire was re-mastered and re-released ten years on with a bonus track added called "New Breed". This addition meant a lot to me as I co-wrote it with my daughter, Karina, and my son Rick played drums on it.
I did use a couple of the first batch of songs on "Baptizm Of Fire". There are some amazing combinations of talent on the two albums and it's great to hear Cozy and Billy Sheean playing incredibly together on the instrumental title track "Baptizm Of Fire" or John's unique eight string bass on "The Healer" and Shannon Larkin's energy and technique on "Paint It Black".
Bruce Wackerman was very young when he played on this album but so talented and combined with Robert Trujillo or CJ they all blend together perfectly.